Took 18th in the 2011 Callville Bay Classic Stage Race.
As I did the
year before
, I competed in the Callville Bay Classic in Cat4. It was a very rough couple days of racing, with Belgium-like weather and speed.
Day One: Individual Time Trial. I took 7th in this race and was very optimistic about my General Classification chances. The TT was a quick 4 mile, up hill course that treated me well. Luckily, there was a tailwind but the impending rain over the mountains kept all racers nervous for their road race.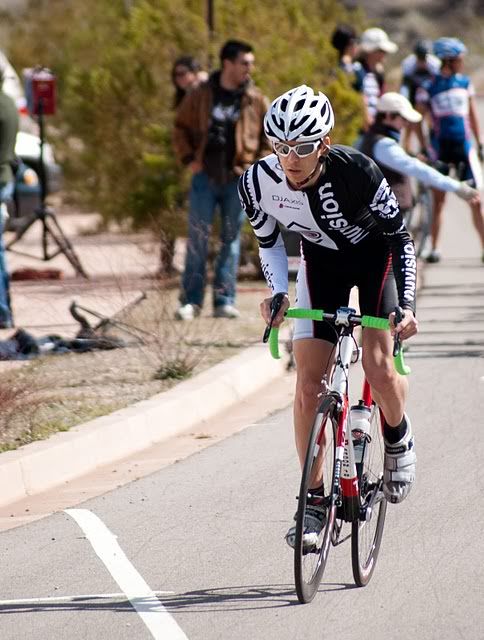 Day Two: 57 mile Road Race. I took 26th in this race. This ultimately shot my chances at a top 10 GC finish. Strong cross-winds and rain broke the peloton into two groups. I managed to stay with the lead group for the entire race but got dropped at the very last climb. Fatigue took over my body and going down hills turned into a battle just to keep control of your bike.
Day Three: Crit Race. The sun came out! Other than a brisk morning breeze, the weather was perfect for racing. I took 19th in this race. I knew I couldn't make up enough time to grab a podium or top 10 spot, so I just rode as hard as I could. The pace was fast from the get go!
The plan is to rest up this week and prep for San Dimas Stage Race at the end of next month. I will probably throw in a few crit races in the mix before then though.
More pics
here.
Thanks Don!